Jetzt überschlagen sich die Neuigkeiten.
Ghi ist seinen oralen Abszess wieder los, Martin melkt Seeigel auf Lino Ventura, ich kann immer montags mit Messer und Gabel essen und die Familie von Prof. Marc Schmitz hat jetzt ne Putzfrau, die nicht mehr klaut. Irre oder? Mein Opa fragte mich früher immer: "Jung, warum muss man die Gäste immer bis zur Tür begleiten? Genau, um sicher zu gehen, dass sie nix klauen!" Aber irgendetwas Neues ist ja noch passiert. Und wir brennen drauf es Euch hier mitzuteilen.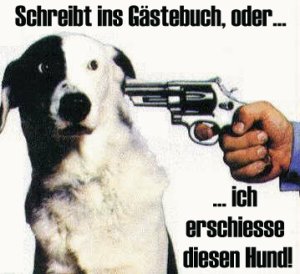 Andrea darf ansagen:
SFX: Trommelwirbel mit anschließendem Tusch
Sprecherin, Andrea: "Ladies and Gentleman, please put your "Patschehänds" together. It is a great honor for us.
WE PROUDLY PRESENT THE NEW Gästebuch."
SFX: Applaus Publikum
Wir mussten erschreckender Weise feststellen, dass nur Ostblock-Piraten wissen, wie man Kommentare zu den Blockeinträgen hier verfasst. Schande. Wir wollten aber Eure vernichtenden Kritiken lesen und nicht die von Olek und Bolek des Viagra-Syndikats aus Warschau. Also mussten wir auf das gute, alte, prähistorisch anmutende Gästebuch zurückgreifen.
Naja, so haben wir viele mühsame Kosten gescheut, um Euch hier nun feierlich unser neues Buch für Gäste präsentieren zu dürfen. Ein Dank an dieser Stelle soll voll wollüstiger Ehr-Darbietung (gibt´s das?) an einen jungen westerwälder Diener der Bits und Bytes gehen. Daniel von Schmidtchen. Nur Dank seines kühnen Mutes und entschlossenen Handelns können wir uns die Besitzer eines heldenhaften Gästebuches nennen.
Soeben erreichte den JBH-Vorstand eine Anfrage der Gelben Seiten, ob eine (w)erbliche Veröffentlichung in unserem neuen Bestseller möglich sei. Nun ja, wir werden die Angebote jetzt erstmal alle vergleichen und uns dann genau anschauen, wer sich hier verewigen darf und wer nicht.
Ihr dürft es auf jeden Fall, und wenn Ihr etwas Nettes schreiben wollt, dann verfasst doch einfach einen Eintrag im neuen Gästebuch, und wenn Ihr etwas Böses und Gemeines schreiben wollt, dann meldet Euch bei den Gelben Seiten.
In diesem Sinne,
Eure Reich Ranicki Helden feat. Gelber Marcel